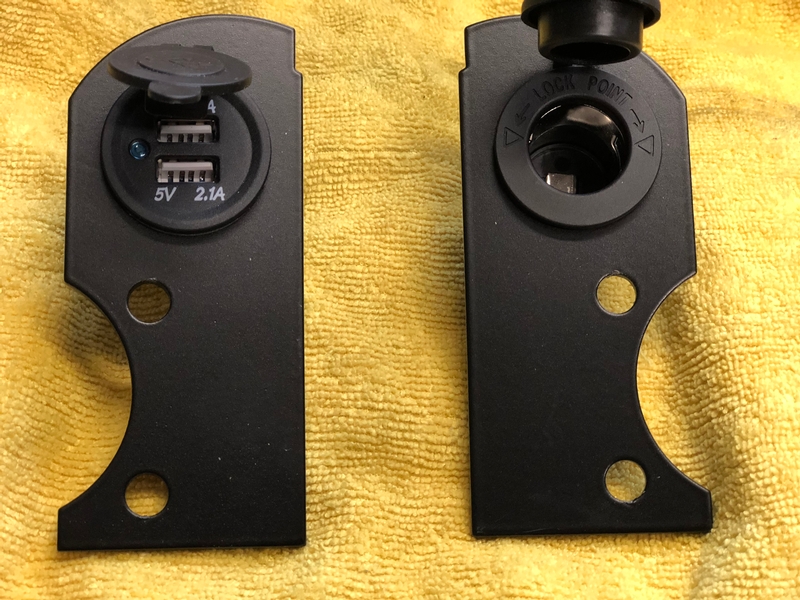 [img]
I am on my 6th ZX14; I have owned an 07, 09, 11, 12, 13, and now my last until they make some big changes. I have installed, created and tried many accessories on the bike. One thing I always put is a radar detector and that requires 12VDC. I have tried many variations of a placement of the 12VDC power-outlet over the years. I no longer like to cut holes. I have created, IMHO, a factory looking set up. I usually create my own bracket. This last time I created a bracket and took it to a machine shop to have several produced with their CNC machine. I have several friends that love them, so I had them cut a dozen sets. I then had them powder coated. I use marine grade outlets and marine grade wire. I installed these on my 09 and have never used anything else since. I install a left and right and they are wired in series. The wire is ran down frame (on the right) and under the ram. It comes out by the oil filler plug. Only the ram cover and fins are required to be removed. I connect it to my battery tender.
**Here is my thought on that: I like to charge things while stopping to eat, when I tour/travel/all day ride. This allows me to do that. When I park the bike for the night I take everything off. When I am at home it is on a trickle charger. So I never have to worry about draining the battery. Plus it is simple (KISS is my goal in life).
My Point is this: I have a couple of sets of brackets left over. If anyone would like one or a set, just PM me. Free of charge, I will ship it to you. You will have to supply your own plug, wire and bolts. If you don't use a riser you will need (4) 8x1.25 x 50 to 60mm socket head or button head bolts and nut. If you use risers you will need 70 to 80MM bolts. The shorter of the two allows for nuts, but not locking nuts. Please feel free to steel my design.

* Last updated by: ZXAdventure on 10/23/2018 @ 12:10 PM *